So this is new for me, this whole honest-and-personal email content email thing. Is it working for you or am I oversharing? I guess time will tell since this is three weeks in a row of writing to you... I do like writing. 
Since the Troublefakers retired I've been going back through photos from the first months as a band. Ethan approached me in 2005, but the band didn't settle into its first lineup until 2006. 
Everything started with the Wednesday Jam. A group of software engineers from the Fortune 500 software company I was working for gathered in this one man's garage once a week and played songs from "the hymnal," a collection of classic rock tunes from the 60s, 70s, and 80s (but mostly the 70s). I was invited to join for a reason I can't remember. 
The setup took over the host's entire downstairs and had a sound system that was huge and loud. I could barely hear myself but everyone there said I had an amazing voice. I didn't not believe them, but I sure don't know how they heard anything. After a few weeks Ethan introduced himself and asked if I'd be interested in forming a band. Well, of course I was! Classic rock is great, but covers were not what I wanted to do. 
Ethan knew Ed from another music project and brought him in on bass. Brian was recruited for drums after his performance at the Wednesday jam. While Ed stuck around for several years and outlasted Ethan, Brian practiced with us once and then disappeared. We eventually learned that he found a touring gig and just went for it, traveling through the US and Europe. How about that.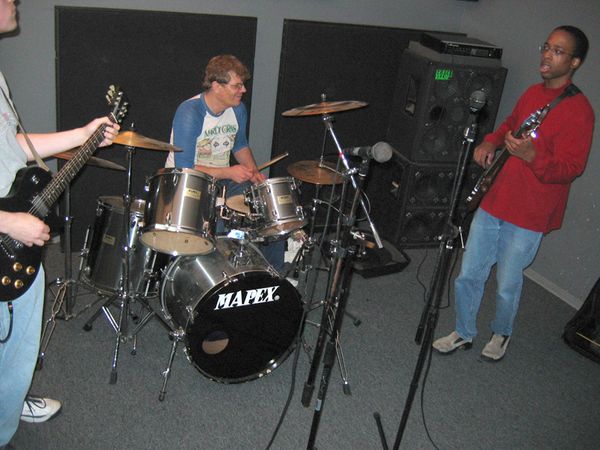 The very first Troublefaker rehearsal with Brian 
I brought in Laurel, another drummer from the Jam group. In all honesty, I knew nothing about drummers when I did this. Laurel was a spitfire and I thought she was fun and full of energy. She played with a love for the beat and a little insanity. Audiences loved her as we started to play out.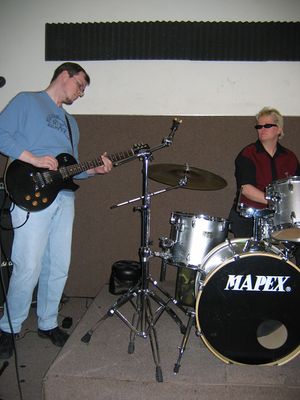 Ethan and Laurel at Evolution Studios, 2006 
That's only the beginning of The Troublefakers, though. Looking back through the pictures I'm not just seeing all the photos I took with my flip phone, but little bits and pieces of my personal life. It wasn't a happy time. Ethan's offer got me to a place where I could work through the worst of it.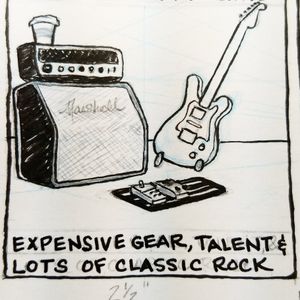 The comic I created for the email is for subscribers only, which is why the whole thing isn't here in the archive. If you haven't already you should sign up! My plan is to keep illustrating and if I can get one out a week we all win something. The complete one won't be copied to the blog so I can keep it as a Patreon reward (whenever THAT happens. I did start one. It's not ready). 
Until next time... 
Your friend, 
Wynne C Blue