Hi, I know it's been too long since I've written you. I've said it before that I will get back to a regular schedule and I mean it. Truth be told I never know quite what to write. I have made a habit of saving emailing and blogging for show announcements and random developments in my band lineup. All that is fine and well and good, but not terribly engaging.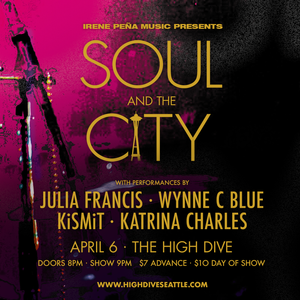 That said, I do have news: My last band show with my Troublefakers is Saturday, April 6. We will be joining Katrina Charles, Julia Francis, and KiSMit (SoCal) for female-fronted showcase Soul and the City at Seattle's iconic music venue The High Dive. If you happen to be in town that weekend I would love to see you and have you enjoy the band performing songs I have worked hard on with the Troublefakers over the last 13 years. 
Advance tickets can be purchased here: https://www.highdiveseattle.com/event/1830573-irene-pena-music-soul-seattle/ 
This is a tough announcement to make for me. I have always thought of my band as a branch of my family, and the albums we've recorded a labor of love no matter the lineup. To end this chapter of my career seems very final, like I'll never see any of them again or make music again. 
We all know that's not likely. Facebook and social media have ensured nobody ever really loses touch, and there is no bad blood between any of us. Sometimes things just run their course. Plus, I still have songs in me. Some of them are just flushing out the chaff and some are genuine keepers. I'm not sure what to do with them yet. I have a lot to learn. 
As for email, I hope you will continue to subscribe and follow my journey. As I focus on myself for a while I plan to do a lot more writing and illustration. Why? Because MAN do I have some STORIES to tell. And they go back a ways, too! All of it is my own observation and experience, so take it with a grain of salt. If you miss anything, I'll put it up on my blog and include a link. 
Thank you for all the love and support since 2005! This is not the end, but the twinkle in the eye of what's next... 
Hugs, 
Wynne C Blue 
https://wynnecblue.com