I'm going to cut to the chase this time.
As long-time subscribers know, this is a chapter I wasn't excited to write about. It was expected, though (can I build suspense or what?)
Despite the post-rehearsal Pumphouse dinners, the rehearsals, the songwriting, and the gigs I can remember, things weren't their best. In hindsight I saw where we could have used a bit more consistency but I chose to ignore it. Behind the scenes Laurel often encouraged me to do new things, gave me advice when I needed it, and was great support when my marriage was crumbling. She was my friend.
For Ethan, the unpredictability was key. He had goals that he wasn't moving toward with Laurel's style of musicmaking. Without consistency his songs weren't getting the development they needed. Sure we could play them, but something always changed.
For Ed it was all that and communication. Bass and drums make the rhythm section and they have to be in lockstep. The incident when we tried to record at my house didn't help.
When they were in agreement they turned to me. What I wanted to do would affect everyone. I had a difficult decision to make.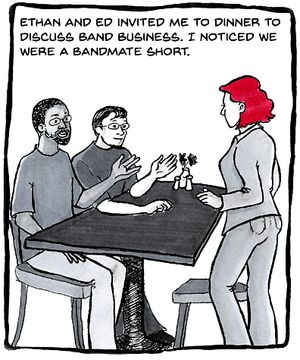 ---
I hope you have been enjoying these comics as I work my way through this break from my musical journey. The Troublefakers 1.0 story will wrap up next week, and then I will break for a bit to get my Patreon presence solid.
I'm glad you are enjoying the comics, but at some point music will enter the picture again. When it does you'll be the first to know!
Know this: I am grateful you signed up and read my email. I do this for myself and for you! You're always welcome to use the link at the bottom to unsubscribe but I hope you don't - there are so many stories to tell and things I haven't shared with you yet.
Until then I love you and want you to be happy. I mean it.
Your friend,
Wynne C Blue
Fake internet points always welcome:
https://facebook.com/wynnecblue
https://instagram.com/wynnecblue