Oh hey, it's me, your friend Wynne C Blue. I know I keep saying that but I think it's my thing, wanting to let you know I'm your friend. Cheesy? Heck yeah it is. Moving on... 
I have this list on my whiteboard to keep me on schedule for the comics I'm sending you. It keeps me on track and allows me to work on them a little every day. For the last couple of weeks I've been sending you things a little out of order, but they're all really close in the Troublefaker timeline. I'm not going to jump around too much. 
This week I want to tell you about one of our first big gigs. BATTLE OF THE BANDS at Merchant's Cafe in Seattle's Pioneer Square. I really can't remember how we got this gig. Every new band gets sucked into a BotB in their fledgling years. We were no different. Luckily it was not one of those events where we were required to pre-sell tickets. All we had to do was promote and perform.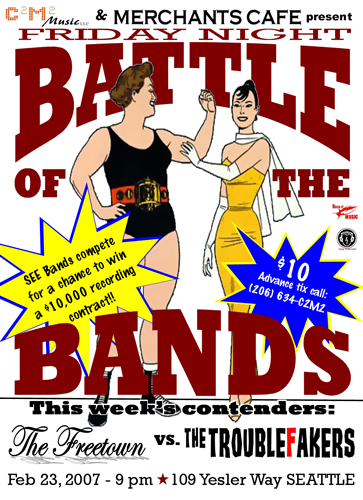 The flyer I made for our BotB show 
This show had a lot of money behind it and they put a lot of effort into the production. They were livestreaming audio before livestreaming was even a thing, which meant everything on stage had to have a microphone - every drum, every tambourine, everyone who would make a noise with their mouth - everything. PLUS they figured it would streamline the transitions to have comedians between bands so people wouldn't get bored and leave while they mic'd everything (that didn't happen). Everyone scheduled got to perform, but it took forever. 
The Freetown were a six-piece jazz-pop band, all underage, and two of them were fighting a crud of some kind. It showed. I felt bad for 'em but we gave it our best anyway. We won the round and were told we'd be contacted about our next battle. 
While this was an experience that sits clearly in my mind from trainwreck to performance to aftermath, I have absolutely ZERO pictures of this performance. All I have is the flyer above. Not even MySpace has record of this show. 
That said, this week's comic contains a little hint at what was to come much later.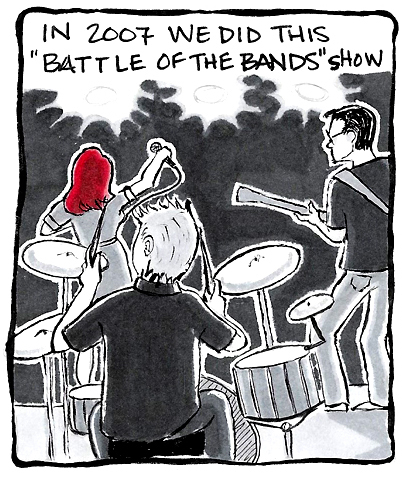 I'm pretty close to that Patreon thing being ready to go. I took a lot of progress photos for this and the last couple of strips and I'd like to populate the page with some content before asking for your patronage. 
Next week I cover recording our first demo. Until then thank you for being a subscriber! Feel free to reply with any suggestions, questions, or feedback. It helps me as a creator to hear what you think! 
As always, your friend, 
Wynne C Blue