Hey, how are you? I've been thinking a lot about what to write about this week. I know in my last message I said I would tell you a bit about the first Troublefakers gigs (if you missed it you can find it in the archive at WCB Blog), but I don't think that makes a lot of sense. 
Wouldn't you like to hear where "The Troublefakers" came from? I mean, how does someone come up with a goofball name like that anyway? Okay for one -- Troublemakers is a really common band name. Be that as it may we weren't looking to call ourselves The Troublemakers and get confused with a classic rock cover band in Milwaulkee, Denver, or Pasadena. It wasn't even considered. Ever. 
I have torn apart my office and music spaces looking for the printout I made of all the band names we considered without success. The email archive from that time has since been purged of all those messages. Luckily, I was able to find a list of band name finalists in a text file named (wait for it) BAND CRAP.txt: 
Re-Make/Re-Model (roxy music) 
Autumn Almanac  (the kinks) 
Pop Movie  (duran duran) 
Too Late Wendy  (duran duran) 
A Chosen Time (new order?) 
Guilty Partner  (tears for fears?) 
Leaders/Seekers of Men  (depeche mode) 
Des Grau es FredeShay  (sims - "this is good") 
Deg Deg  (sims - "goodbye") 
Wubalee Frap (sims - "stfu") 
Twisted Pairs 
Donkey Hare 
Troublefakers 
Passout Party 
(A few were removed because I might want to use them later) 
I know, I know -- lots of stuff taken from "The Sims" video game. What can I say? I loved the game and "The Sims 2" was released that year. Once we settled on a band name I even made Sims of all four of us! I didn't go on a killing spree with them, though. There are only ten ways to kill a Sim in The Sims 2, and I lost interest after five. But I digress.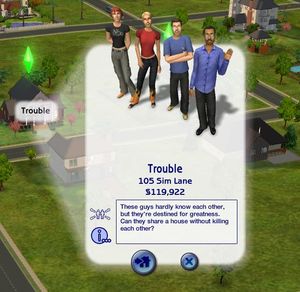 Yeah I went there. Sue me. 
The comic below is, sadly, incomplete. I bit off more than I could chew this week but I did promise a six-panel comic in all my "please sign up for my email" promo online. It's a little rough, and I'm a little tough on myself for not being able to pull it off, but whatever. Here you go: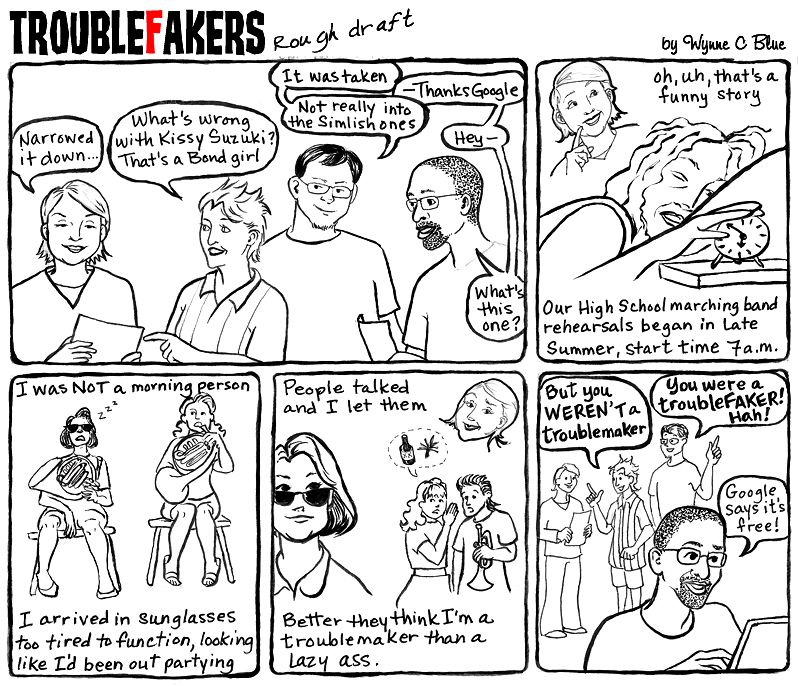 While I usually save the full comic for subscribers, for this one I'll make an exception. Enjoy.
Remember in the last email I sent that I was working on getting a Patreon page set up? Well, this week I've actually been working on it when I had the urge to procrastinate on this. I plan to have it go live in May, and will send you a link and some instructions when that happens. It's there you will see the final shaded, colored, and pencil mark-free version of Troublefakers #3. 
Next week I'll talk about our first gigs. That's a promise. 
Your friend, 
Wynne C Blue 
https://wynnecblue.com 
originally sent by email May 1, 2019