First of all - thanks for reading. I said I would write to you more and I meant it!  I know it's a bit lengthy. I post these things on my blog because well, they're basically emailed blog entries. You should bookmark the blog, btw... 
Anyway, the show went really well and I am very satisfied with the closing of the Troublefakers chapter of my musical career/life. 14 years, four albums, and ten bandmates later I was ready and not ready - I didn't know I was ready until reality set in and I was standing by the stage in the green room. 
Our last rehearsal was that Monday and I wasn't feeling 100%. I wasn't hitting notes very well and I worried a little. I rested up and by Saturday morning my voice had recovered enough for me to work on vocal exercises. Still not quite 100% but improving. 
A week of vocal rest gave me a lot of time to prepare for my final performance. I won't lie, the news that I was losing 50% of my band was difficult to process. I blamed myself, my personal struggles, my impostor - I checked off every irrational box on the list of reasons. On the bright side a few people I shared the news with were pretty much of the mind that this wasn't the end of anything. The idea calmed me down so I didn't argue. 
On the night of the show, Ron, Ed, and Ethan all showed up to attend the sendoff. I did send them and other Troublefaker alumni an email invitation but had zero expectation of this. Imagine my surprise seeing them! Only Barry was missing, and that was with a good reason. Friends that I hadn't seen at a show in years came to celebrate with us. I was beside myself.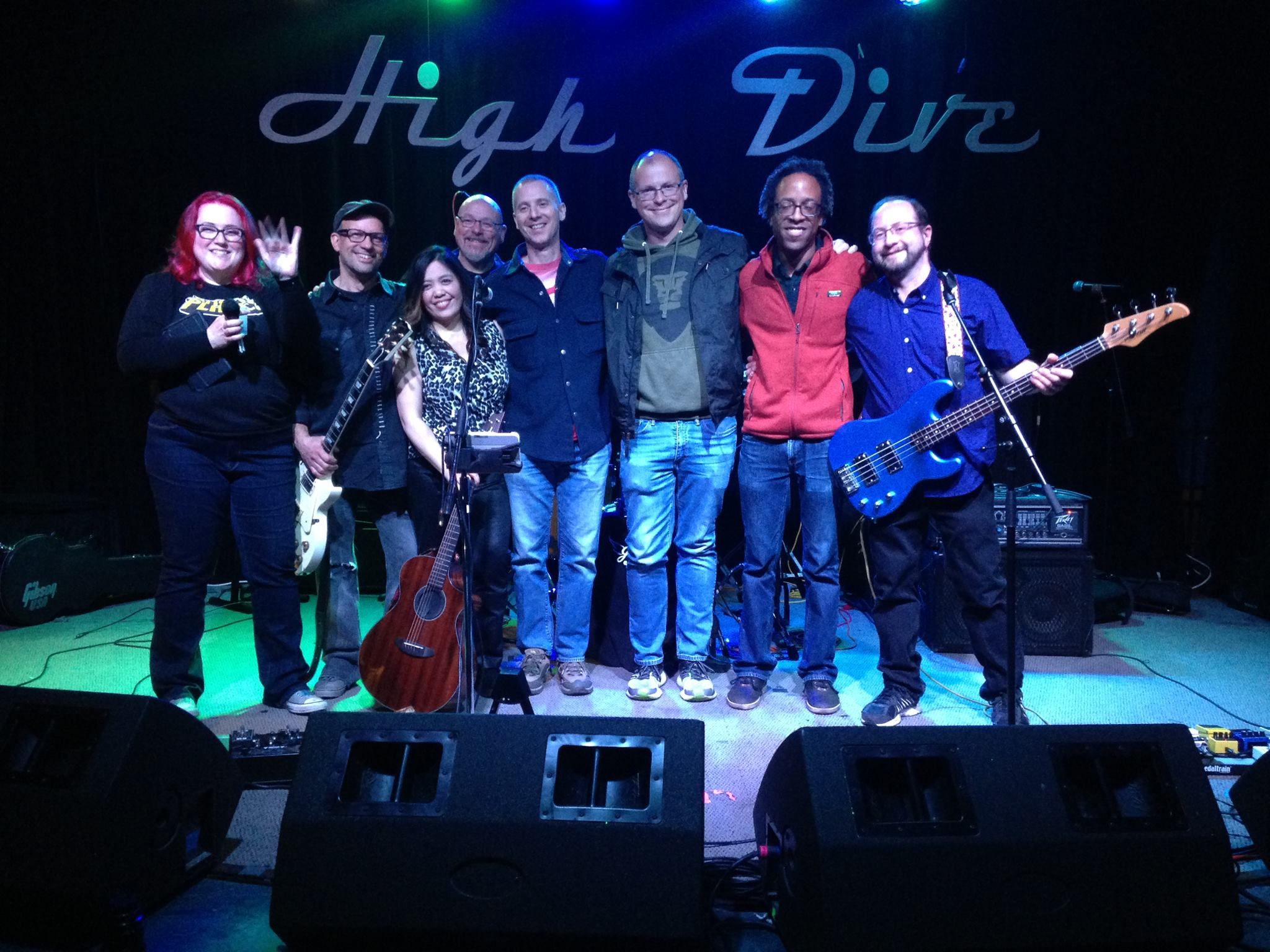 L to R: Me, Dave Pollon, Irene Peña, Donnie Ivan, Ron Allen, Ethan Freckleton, Ed McKenzie, and Jeff Colchamiro
Irene got a hold of the set list and played rhythm guitar the whole show, freeing me up to play frontman for the first time in what seemed like forever. I was nervous at first but then it all came back to me. I performed for my life with my voice at 99%. Nobody noticed the 1%. Nobody noticed the mistakes. People were dancing and cheering. Afterward there was a lot of love and gratitude. It was an amazing show. If you didn't go you missed something wonderful. I know, we're older, it's hard to stay out late and parking is such a hassle... It's okay.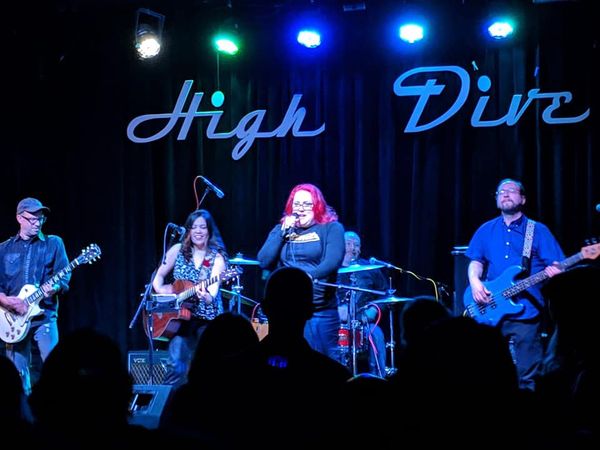 Dave, Irene, Me, Donnie, and Jeff on The High Dive Stage, rockin' it up
For me, it was worth it. It has always been worth it. I've been avoiding the part of my art that made people come out, and it hit me at the last show. Nobody cares that I'm fat. Heck, me being fat is probably part of what makes my act so amazing. When I'm on the stage and getting into it, I don't even care that I'm fat. I'm just in it. I'm doing what I was meant to do. 
Is it too late to hit the Undo command? I was going to keep writing songs but walk away from performing like that. Now I'm not so sure. I still need to give myself a break from it. Whatever thought the next 6-12 months leads me to, I know it will be something good. 
Until then I hope you will stick with me on this journey. Next week's email will have a genuine Troublefaker story in it, starring the founders themselves, Wynne (Me) and Ethan. 
It'll be fun. 
Your friend, 
Wynne C Blue 
and OH MY HECK follow me on Twitter!